Myande Flaker Won the Prize of Science and Technology of CCOA
Myande Flaker Won the Prize of Science and Technology of CCOA
Jun 5, 2019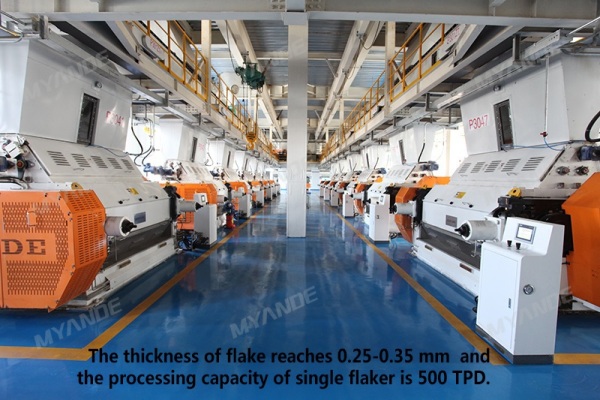 Recently, the list of winners of the Science and Technology Award of China Cereals and Oils Association in 2018 was officially announced. Myande's project aimed at "Development and Application of Large-scale Automatic Oilseeds Flaker" won the second prize of the Science and Technology Award.
Flaker is one of the core equipment in oil preparation process. Its quality directly affects the extraction efficiency and the quality of soybean meal. Previously, the supply of flakers with capacity of 500TPD or over was dominated by foreign manufacturers. Through market research on the defects of flakers in use, Myande Group developed MYPG large-scale automatic oilseeds flaker. With independent and innovative design, it obtained a number of national patents, including roll end anti-gushing mechanism, roll gap adjusting device and belt tensioning device, which greatly improved the performance of the flaker.
In order to ensure the reliability of the flaker, Myande purchased a number of advanced manufacturing equipment, such as five-axis machining center, and optimized the intelligent manufacturing production line, which have enabled major technical features of Myande flakers, including its noise and vibration levels, reliability, and safety, to reach international standards.
Myande flakers are currently running in more than ten large 5,000TPD oil factories and more than 100 oils and fats enterprises at home and abroad.
The thickness of flake reaches 0.25-0.35 mm and the processing capacity of single flaker is 500 TPD.
This Science and Technology Award of the China Cereals and Oils Association represents the recognition and encouragement of the industry to Myande flaker. Myande will provide better service for domestic and foreign customers and strive to achieve the vision of becoming a respectable global leading enterprise in the specialized market.