Myande Undertakes 1,000TPD Multiple Oilseeds Crushing Project in Turkey
Myande Undertakes 1,000TPD Multiple Oilseeds Crushing Project in Turkey
May 26, 2021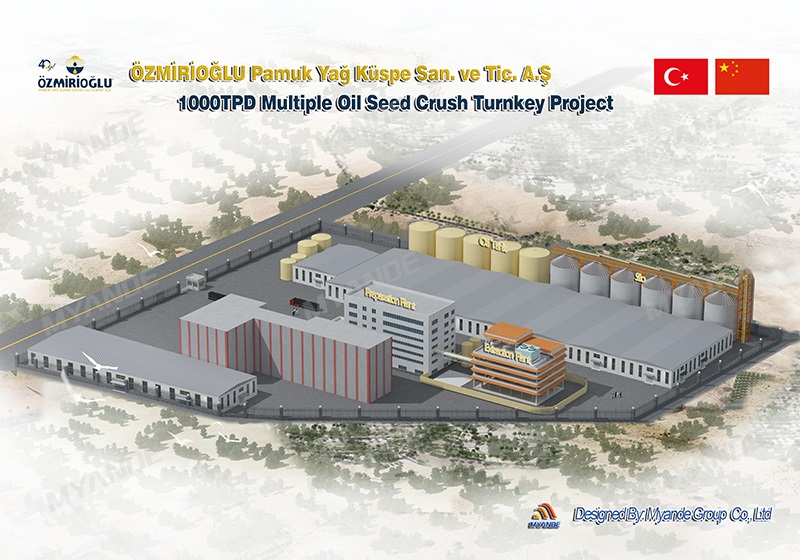 Recently, Ozmirioglu Pamuk Yag Kuspe San. ve Tic. A.S. (Ozmirioglu A.S. for short) and Myande signed a contract by which Myande will undertake for Ozmirioglu a 1,000TPD Multiple Oilseeds Crushing project. Ozmirioglu will own the largest cottonseed crushing plant in Turkey in future.
Since 1978, Ozmirioglu A.S. has started business in edible oil, feed and grain sectors in Turkey. The company has conducted a large ammount of investment through the cooperation with international engineering companies for 43 years. The procurement of the equipment for this crushing line was carried out by international competitive bidding. After careful evaluation of technology and performance, Ozmirioglu A.S. finally selected Myande to provide engineering, equipment, and automation control system for the 1,000TPD multiple oilseeds crushing line.
Now, the project is in the equipment manufacturing process.
Since the beginning of the bid process, the technical team from Myande Group have understood customer needs and the project in the best way and ensured that the process proceeds in accordance with customer requirement. After in-depth discussions by both parties, the entire project was carefully designed by Myande engineers, and energy saving and consumption reduction were considered in the process and equipment design to reduce customer costs.
With the sincere cooperation of Ozmirioglu A.S. and Myande Group, a model factory will be built featuring energy-saving, intelligent and environment-friendly in near future.