Myande R&D Project Won Science and Technology Award of China Cereals & Oils Association
Myande R&D Project Won Science and Technology Award of China Cereals & Oils Association
Feb 28, 2022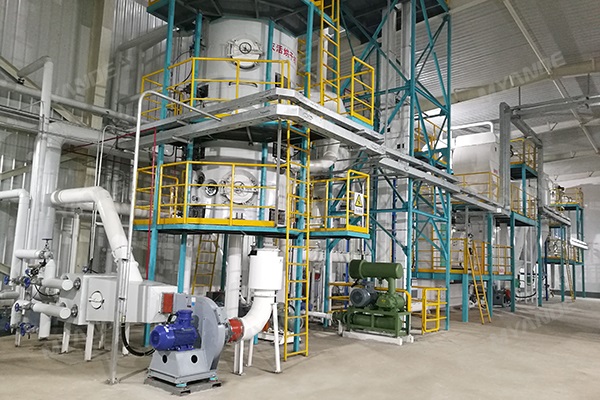 Recently, the award-winning project list of 2021 Science and Technology Award of China Cereals and Oils Association was officially announced, and "Development and Application of Harmless Recycling Technology and Equipment for By-products of Imported Soybean Processing" completed by Myande Group won the second prize.
1.
Myande provides equipment for national biosecurity in oils & fats industry
China is the world's largest soybean importer and one of the largest soybean processing countries. While imported soybean meets domestic requirement for raw materials and oils, it also poses a risk to national biosecurity. The harmless recycling technology and equipment designed for processing by-products of imported soybean processing developed by Myande provides a new way of handling soybean impurities for China's soybean processing industry, which not only meets the quarantine requirement but also significantly reduces customers' production costs and effectively promotes the development of China's grain and oil processing equipment to the international advanced technology level.
2. Recycling utilization to create added value
Previously, centralized incineration and manual sorting were mostly adopted by soybean processing enterprises to remove large impurities, which is costly, pollution-prone, and is likely to spread quarantine pests.
For soybean crushers processing 5,000 tons of imported soybean daily (containing 0.5% impurity) and running 300 days per year, adopting Myande's newly developed processing equipment leads to RMB935,000 cost saving per year. In addition, the organic impurities will be recovered and added back to the soybean meal. With soybean meal costing RMB3,000 yuan per ton, annual recovered amount will be about RMB3.96million. The total benefit is expected to be around RMB4.895million, and the investment recovery period will be shorter than 1 year.

3. Technological innovation awarded with several patents
(1) By optimizing and integrating complete pre-treatment technology and equipment such as screening, stone removing and crushing, the normal operation of the inactivation equipment is ensured. And the service life of the equipment is greatly improved as well as the safety and reliability of the entire production line.
(2) It innovatively developed a series of harmless recycling equipment integrating biological inactivation, drying and cooling. It has the advantages of significant energy saving and consumption reduction, and reliable inactivation effect.
(3) The whole set of process equipment adopts an advanced intelligent control system. Through intelligent inspection of key points in the operation process, online safety inspection, control management and intelligent active maintenance of the equipment are realized, and the process effect of the entire production line and product quality are guaranteed.

Technological innovation is the core driving force to lead the high-quality development of enterprises, Myande will continue to adhere to the corporate mission "With professionalism, we manufacture high quality mechanical products and supply complete solutions that enable our clients to succeed. We are dedicated to create a bright future for us as well as for our clients", and constantly develop new technologies and products to create value for customers and create value for society.