Myande Established "Myande Teaching Assistantship" in Jiangnan University
Myande Established "Myande Teaching Assistantship" in Jiangnan University
Jun 16, 2021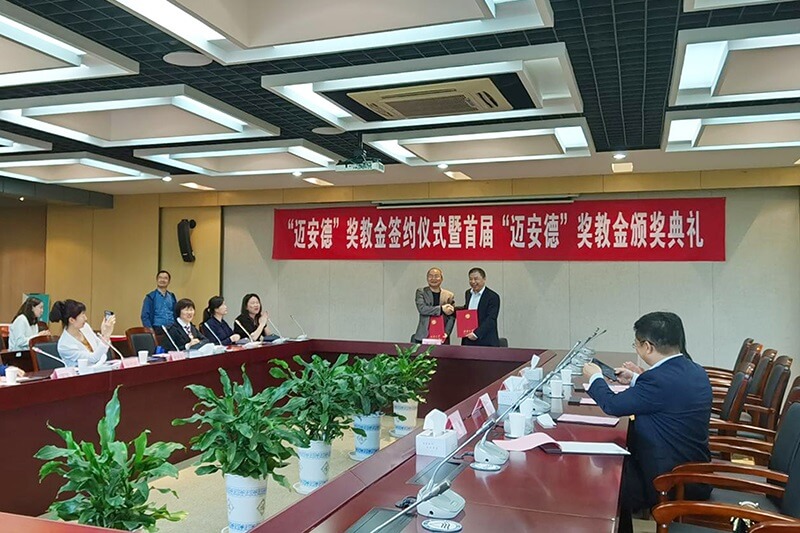 In order to support Jiangnan University's efforts to improve undergraduate teaching administration and to support the development of Jiangnan University's education, on April 22, 2021, Myande Group established "Myande Quality Teaching Award Foundation" in Jiangnan University aimed at encouraging undergraduate education administration staff to strive for excellence, to establish bridges between students and disciplines, to improve professional skills and efficiency, to enhance the service awareness, and to train more high-quality talents for enterprises and society.

Myande has always paid attention to the cultivation of talents and scientific research. In 2015, Myande started "Myande Employee Engineering Master Degree Program" in Jiangnan University. After five years of studying at Jiangnan University, all Myande employees admitted into this program completed the required courses and research projects, and graduated successfully. The success of this cooperative project has created a precedent for Myande in broadening the road of production, education and research, and also proves that there still exists very broad prospect for Jiangnan University and Myande in industry-university cooperation in scientific research and talent training.

At the signing ceremony of the "Myande Quality Award Foundation", Mr. Wang Mu, Vice Chairman of Myande Group, and Professor Xu Xueming, Director of the Academic Affairs Office of Jiangnan University, signed the donation agreement. Mr. Li Xudong, Vice President for Global Sales, accepted the donation certificate issued by Jiangnan University, and Ms. Sun Huarong, Director of Human Resources Department of Myande Group, announced the list of winners and expressed warm congratulations to the winners.

After the ceremony, the two parties had a lively discussion on the training of talents and how the school can better cultivate outstanding talents for enterprises, and communicated on various aspects of university-enterprise cooperation, including technical research, talent support and training. Mr. Wang Mu, Vice Chairman of Myande Group, expressed his affirmation on Jiangnan University graduates currently working in Myande, and expressed hopes that Jiangnan more talented graduates from Jiangnan University will find their position in Myande Group.

The combination of Jiangnan University's world-leading theoretical and academic research in the field of food and Myande advanced equipment manufacturing will definitely make outstanding contributions to the development of food safety, edible oil, starch, fermentation and other industries in China and the world.