Myande is able to process a variety of edible and inedible oil seeds, such as groundnuts, flaxseed, grape seed etc. Though each of the seeds is unique, the principle is the same. The equipment and engineering design will be adjusted to optimize performance.
Myande team is composed of professionals specialized in Oils & Fats industry, using the most comprehensive set of technological resources and equipment.
What can we do for you?
We focus on supplying one-stop service covering general layout plan, process design, R&D, equipment manufacturing, automatic control system, data integration, installation, supervision, commissioning, training and etc. Our custom solutions come from a deep understanding of your needs, and we have the capability to complete each project from the design of the initial concept to delivery.
Talk About Your Needs
Solution Tailored To Your Needs
General Layout Plan: With a land prepared, the next thing you should consider is planning the general layout, which is a crucial foundation of a sustainable and cost-effective manufacturing. Turn to us for help and we will present you the design for your plant by considering water, steam, electricity supply and etc.

Process Design: Combining our engineering expertise, industry know-how and practical skills with your knowledge, we provide the optimized and customized process design for your plant.

3D Plant Design: On the basis of plant layout design, combined with real situation, we can design a three-dimensional model of the entire plant. All the equipment, piping and instruments, any detail can be shown in the model, not only allowing you to have an intuitive understanding of the plant, but also providing overall information support for plant construction, equipment installation and future expansion.

Automatic Control System:

We offer economical and most effective

process automation solutions

for the entire production line. Our RES automatic control system is developed based on PLC/DCS system.

Data Integration: From the perspective of the overall operation of the factory, Myande intelligent data integration management system collects basic data from raw grain procurement, warehousing, processing, inventory, sales and logistics, relying on the interconnection network system of each workshop. It provides real-time, accurate and traceable data reports for the current storage, processing and shipping.

Equipment Manufacturing:

We owns in-house

manufacture base

of more than 100,000㎡ integrating R&D, production, project management which represents advanced engineering capability in the industry.

Installation and Commissioning: After finishing the installation of all machines, we offer on-site commissioning service to ensure compatible functioning. Every move of the machine needs strong technical support from our experienced engineers. The only principle is that you can start manufacturing right after the commissioning.
Quality at Myande
At Myande, we are committed to providing high-performance equipment. We achieve this by applying strict quality management with the active engagement of all engineers and workers.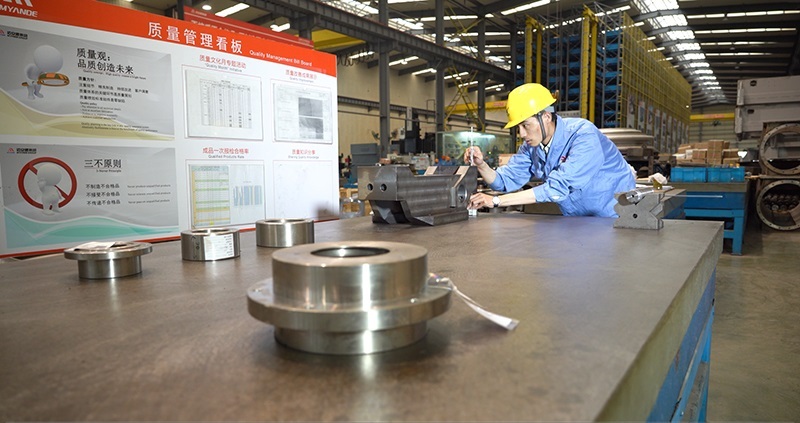 Design and implementation experience of more than 100 mega projects.

Customized/ competitive/ affordable solution to enable you to succeed.

100,000㎡ in-house

design and manufacture base

/ 600+ workers/ 400+ R&D and technical engineers.

All the R&D engineer team members with more than 12 years of experience in the field.

Technical experts with senior management experience in European and US engineering companies.

More than 60% market share in China in the past 5 years.