Wheat Starch

We can provide turnkey plant for you:
Wheat starch plant with capacity ranging from 200t/d to 2,000t/d
1. Water, flour mix and gluten separation
Flour is mixed with proportional water, then goes through the homogenizer to three-phase decanter for separation. Streams coming out of decanter are as follows: A starch/fiber, gluten/B starch and animal feed.
2. Gluten maturation, agglomeration, sifting and dewatering
Gluten and B starch stream from Decanter is pumped to Maturing Rotary Drum with a proper vessel, stable stream and precise retention time. For general reaction tank, there is always mixed material stream, so it is not available in this section. Maturing Rotary Drum is the reasonable equipment specially designed for this process. During maturing, gluten paste reticular structure becomes soft and bound starch dissociates out. Gliadin and glutenin become forming long molecule chain, that is gluten paste has formed. Matured slurry mix with process water then is pumped to gluten Agglomeration Machine in which Gliadin and glutenin molecule chain form gluten paste.
3. Gluten recovery
To ensure high gluten recovery rate, a conical rotating sifter is fitted below bend screener through some of the fiber and small-size gluten pass. Large granule gluten formed of the small-size gluten is recovered by the recovering sifter. This process retrieves fiber from starch slurry and broken gluten and sends it to sifting process.
4. A starch recovery and B starch concentration & dewatering
This process retrieves A starch contained in the starch slurry in the gluten recovery process and sends the retrieved A starch to the refining process. B starch through concentration & dewatering process becomes concentrated B starch liquid with 65% concentration rate.
5. A starch refining & dewatering
Washed through hydro-cyclone and dewatered by peeler centrifuge.
What can we do for you?
We focus on supplying one-stop service covering general layout plan, process design, R&D, equipment manufacturing, automatic control system, data integration, installation, supervision, commissioning, training and etc. Our custom solutions come from a deep understanding of your needs, and we have the capability to complete each project from the design of the initial concept to delivery.
Talk About Your Needs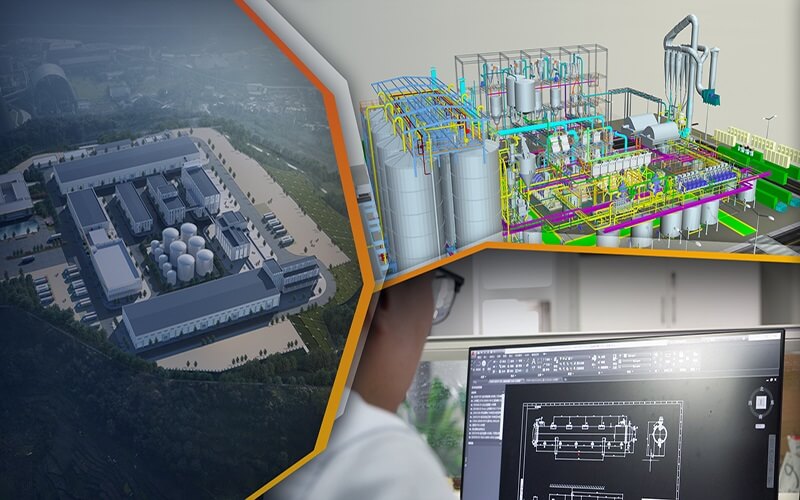 Solution Tailored To Your Needs
General Layout Plan: With a land prepared, the next thing you should consider is planning the general layout, which is a crucial foundation of a sustainable and cost-effective manufacturing. Turn to us for help and we will present you the design for your plant by considering water, steam, electricity supply and etc.

Process Design: Combining our engineering expertise, industry know-how and practical skills with your knowledge, we provide the optimized and customized process design for your plant.

3D Plant Design: On the basis of plant layout design, combined with real situation, we can design a three-dimensional model of the entire plant. All the equipment, piping and instruments, any detail can be shown in the model, not only allowing you to have an intuitive understanding of the plant, but also providing overall information support for plant construction, equipment installation and future expansion.

Automatic Control System:

We offer economical and most effective

process automation solutions

for the entire production line. Our RES automatic control system is developed based on PLC/DCS system.

Data Integration: From the perspective of the overall operation of the factory, Myande intelligent data integration management system collects basic data from raw grain procurement, warehousing, processing, inventory, sales and logistics, relying on the interconnection network system of each workshop. It provides real-time, accurate and traceable data reports for the current storage, processing and shipping.

Equipment Manufacturing:

We owns in-house

manufacture base

of more than 100,000㎡ integrating R&D, production, project management which represents advanced engineering capability in the industry.

Installation and Commissioning: After finishing the installation of all machines, we offer on-site commissioning service to ensure compatible functioning. Every move of the machine needs strong technical support from our experienced engineers. The only principle is that you can start manufacturing right after the commissioning.
Quality at Myande
At Myande, we are committed to providing high-performance equipment. We achieve this by applying strict quality management with the active engagement of all engineers and workers.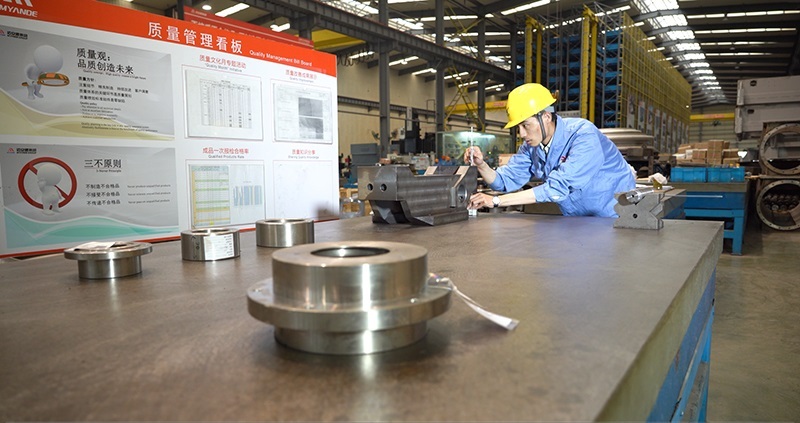 Design and implementation experience of more than 100 mega projects.

Customized/ competitive/ affordable solution to enable you to succeed.

100,000㎡ in-house

design and manufacture base

/ 600+ workers/ 400+ R&D and technical engineers.

All the R&D engineer team members with more than 12 years of experience in the field.

Technical experts with senior management experience in European and US engineering companies.

More than 60% market share in China in the past 5 years.